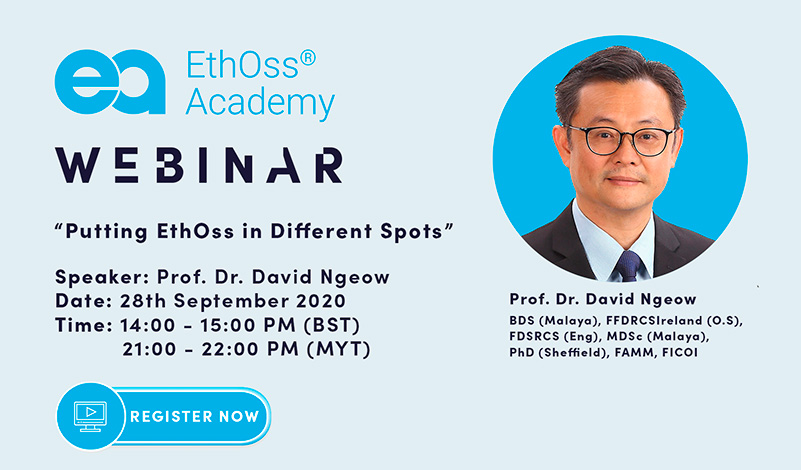 Putting EthOss in Different Spots
Synthetic bone graft materials previously have been reported to be inferior in comparison to allograft and xenograft materials. One of the problems of synthetic bone graft is volume resorption, which causes the grafted site to become less stable. The introduction of calcium sulphate-based synthetic bone grafts address some of these issues; in addition, one great advantage of EthOss bone graft material is the ability to do away with the use of a resorbable membrane. In this presentation, Prof Dr Ngeow shares his experience of placing EthOss in different spots, namely extraction sockets, dehiscence, fenestration, vertical bone defects and pathological sites.
About the speaker:
Professor Dr. David Ngeow is currently a lecturer at the Department of Oral & Maxillofacial Clinical Sciences, Faculty of Dentistry of the University of Malaya. He was a visiting professor at the University of California, San Francisco in 2015/2016. He graduated from the University of Malaya in 1992 and was a private practitioner for 9 months before he was offered the post of tutorship at his alma matter. Three years later, he became a Senior House Officer at the Queen Victoria Hospital in East Grinstead, England, where he obtained his Fellowship in Dental Surgery from the Royal College of Surgeons in Ireland and the Royal College of Surgeons of England. He subsequently returned to Malaysia and was a pioneer lecturer at the then newly established Universiti Kebangsaan Malaysia. He later became a lecturer at the University of Malaya in 2000. He has published 170 papers in local and international journals and was the Editor of the Malaysian Dental Journal from 2005-2007 and the Editor of the MDA Newsletter for 2015. He is currently an editorial board member of the Annals of Dentistry of the University of Malaya.
Rekisteröidy webinaariin

Calaject-live webinaari 10.9.2020
Computer-controlled local anaesthesia: Why you should swap your traditional syringe or carpule for a digital system
Uusi ajankohta!
Calaject-live webinaari 15.10.2020

Computer-controlled local anaesthesia & paediatric patients:
How to make your injections safe and effective
REKISTERÖIDY 15.10 WEBINAARIIN
Osstem Implant / Hiossen verkkoluennot:

Osstem webinaari 22.9.2020

Dr. Nicolas Widwer Sveitsistä luennoi miksi hän käyttää Osstem Implant-järjestelmää luento on katsottavissa Osstem AIC sivuilla 22.9.2020 alkaen.
Luennot ja hands on -kurssit:
Kansainväliset seminaarit
OHM in Europe UK Lontoo siirtyy vuoden 2021 toiselle puoliskolle.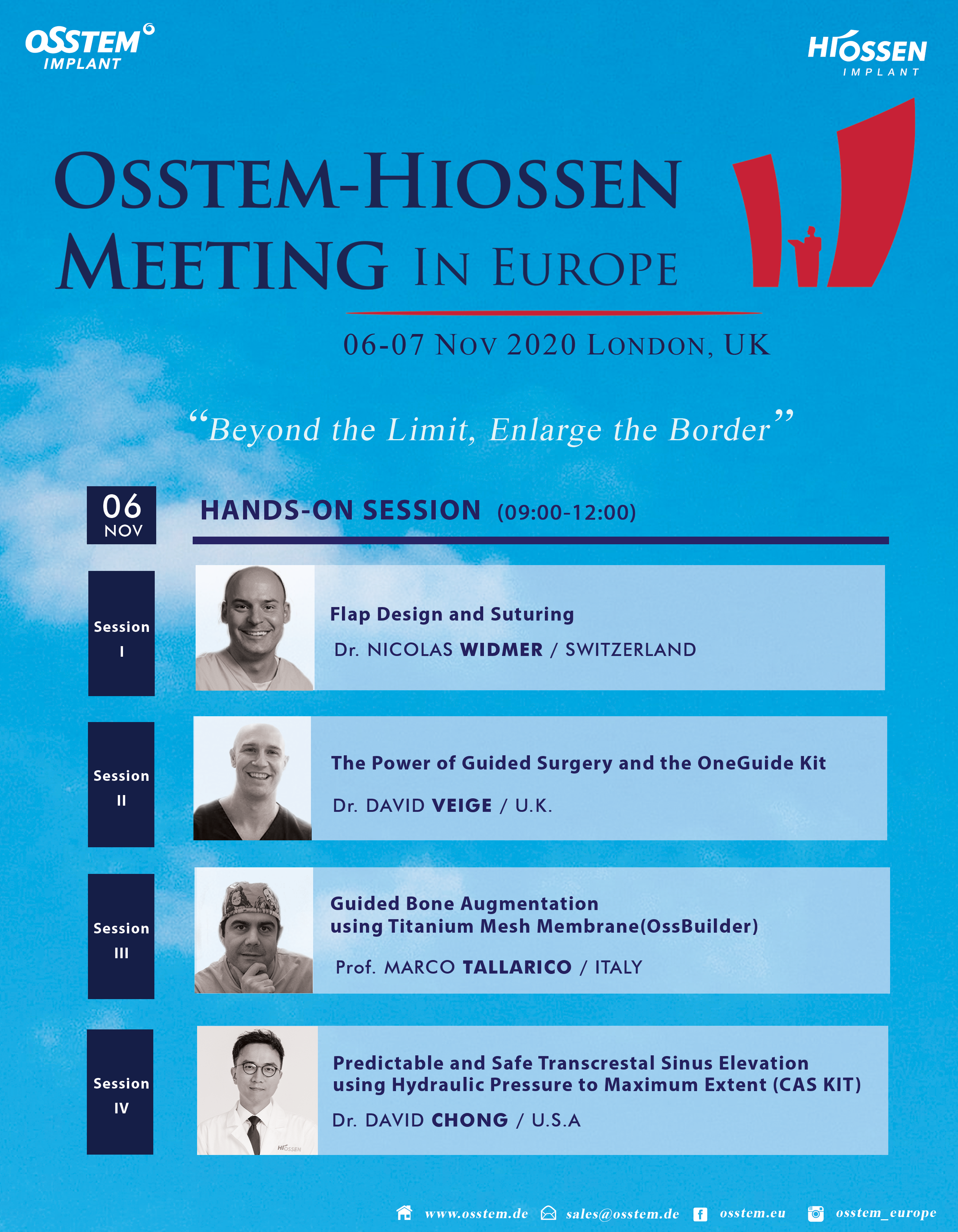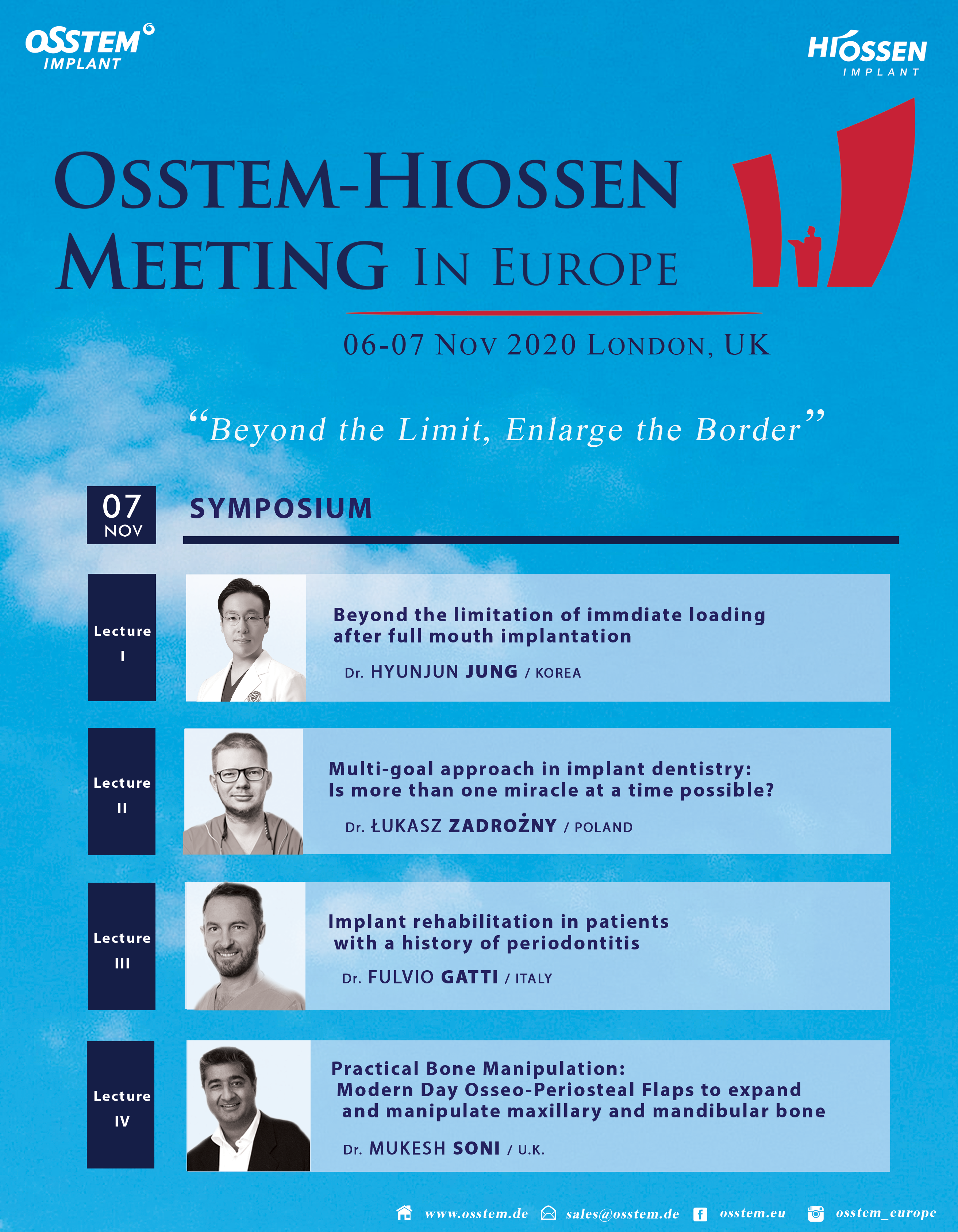 Osstem Implant seminaari

Osallistuminen tapahtumiin edellyttää Osstem implanttitapahtumapaketin hankkimisen. OHEM-paketit löydät täältä.